Pizzeria Mozza at Marina Bay Sands
"Iron Chef America" Mario Batali has made his debut in Singapore with not one but two Italian restaurants at the Shoppes at Marina Bay Sands. On one side is Osteria Mozza, a fine-dining restaurant with white table cloths and a dress code, and on the other is Pizzeria Mozza, a casual eatery celebrating Italy's biggest contribution to global cuisine – the pizza. Pizzeria Mozza is the rare kind of celebrity chef restaurant where you won't get dirty looks for wearing jeans or bringing your kids.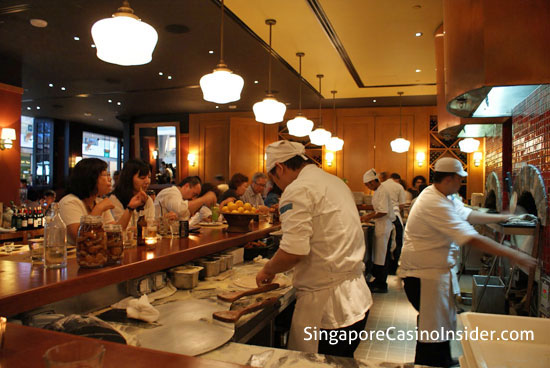 Pizzeria Mozza is not unique to Singapore. Chef Batali, in partnership with pastry chef Nancy Silverton and restrateur Joseph Bastianich, opened the first Pizzeria Mozza in Los Angeles. After the spectacular success of this new breed of casual-gourmet Italian, they've taken the concept halfway around the world to Singapore to overwhelmingly positive reviews.
Pizzeria Mozza has an open lay-out and, just walking past the restaurant, you can see straight to the back to the brick pizza ovens. The pizza station is flanked by counter seating and, if you don't have a reservation, this may be where the hostess sticks you. That said, it's not necessarily a bad thing as the counter seats are marginally more cramped than the rectangular wooden tables and give you a front-row seat to the creation of the glorious pizzas, from kneading the dough to being taken out of the oven on wooden slabs.
With their bubbly crust, homemade cheese and premium toppings, Pizzeria Mozza's pizzas are incomparable to anything that arrives in a box. The secret lies in the use of the high temperature wood-burning ovens, which creates a crust that's crispy on the outside but soft and chewy on the inside. More than a dozen pizzas are listed on the menu and range in price from SGD $18 – 34. The toppings straddle the line between everyday and gourmet, from the classic Margherita with fresh tomato and basil to a breakfast-inspired pizza with sunny side up eggs, bacon, Yukon gold potato slices, and sweet onions. Meat lovers will want to try the pizza topped with bacon, spicy salami and the house-made fennel sausage. We opted for the savory combination of fresh goat cheese, bacon, scallions, and leeks, and were not disappointed.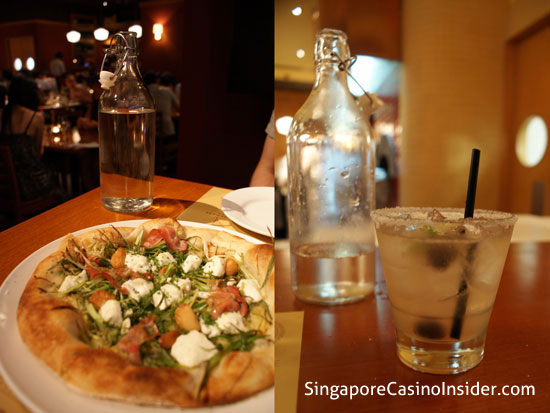 For a perfect dinner for two, pair a pizza with one of the house salads (SGD $8-19) which are large enough to share. We ordered the insalate mista, fresh greens in a tart vinaigrette, but there are more complex salads including the Mozza caprese (tomatoes and house-made mozzarella) and the signature Nancy's chopped salad – a meal in itself with radicchio, aged provolone, salami, and pepperocini, an Italian pepper that's more sweet than spicy.
You'll be hard pressed to find a table that hasn't ordered a pizza, but Pizzeria Mozza does serve other Italian fare. The antipasti dishes make a great starter and are very diverse from fried cauliflower fritters to meatballs to oven-roasted bone marrow, definitely an acquired taste. If you just can't get enough carbs, there's freshly baked bruschetta with optional toppings of chicken livers or fatty ciccioli pork, plus panini sandwiches stuffed with classic fillings like mortadella and provolone cheese then grilled (bruschetta SGD $8-18, panini SGD $16-22).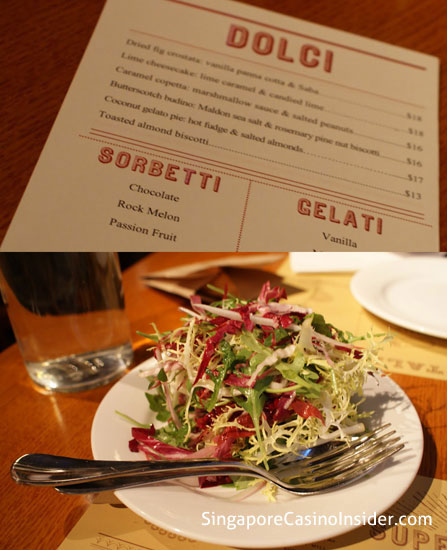 In addition to the regular menu, Pizzeria Mozza offers a daily special of hearty home-style Italian cooking. On our Sunday visit it was their lasagna al forno ($28 SGD) with rich layers of meat and cheese, but on any other day could be crispy duck with slow-cooked lentils, cannelloni stuffed with creamy ricotta, or chicken cacciatore.
The pastries are just as perfect as the pizzas, so do try to save room for dessert. The caramel copetta (S$16) strikes a perfect balance between sweet and salty with marshmallow sauce and crushed peanuts and the almond biscotti (S$9) is the perfect partner for a cappuccino. The gelato and sorbetti are made in-house and cost S$16 for up to three flavors, allowing you to sample classics like espresso and chocolate plus more experimental ones like olive oil.
In the spirit of making fine Italian dining affordable for everyone, the wine list boasts 100 bottles of European wine all priced under S$100. If you prefer to order by the glass, prices start from S$12 for the house wine. Specialty cocktails start from SGD $16 and include a potent lime and berry margarita. In a rarity for any Singapore restaurant, drinking water is served without having to ask for it and is free of charge.
As one of the best value restaurants at Marina Bay Sands, Pizzeria Mozza draws a steady crowd. A reservation is highly recommended, even you just drop by to make one a couple hours before you want to dine.
B1-42-46 Galleria Level, Marina Bay Sands
(65) 6688 8522
Open daily 12pm – 11pm
http://www.pizzeriamozza.com/singapore/restaurant.cfm
http://www.marinabaysands.com/Singapore-Restaurants/Casual-Dining/Pizzer...